Your Ultimate Marketing Solution Provider.
If you're looking for the old school printing way, but with a modern twist, look no further. We have the best, state of the art printers, allowing customers to print direct mail pieces, along with marketing collateral pieces.
When it comes to mailing lists, accuracy is everything, that's why we provide only top-rated business, consumer, and residential mailing lists. Get started now by buying a mailing list, or contact us to discuss your specific needs!
Promotional products are a great way to get your name in the hands of potential customers. The number of different promotional products is constantly growing, which is why we had to create a separate website just to list them all.
VeraPax is a certified Constant Contact Business Provider that can help you strategize, develop, curate and execute a high-quality, aesthetically pleasing email campaign or email marketing services in phoenix to present to your email list.
Let's help your business get social! Online marketing is where it's at and here at VeraPax we love to help businesses take their social media marketing to the next level.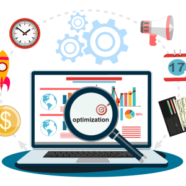 Local Search and Search Engine Optimization (SEO). Local Search is the study of competitors and optimizing your website content, and Google Maps listings, and more, to increase your traffic, visibility and, ranking.
Google My Business (GMB) is a FREE platform for marketing your business even if you do not have a website. Our experts help you claim, learn and manage, your listing. If you want to do it yourself, let us show you how then take over. Too busy…we can do it all for you. Harness the power of Google My Business and grow your business.
Pay Per Click (PPC) marketing is a search marketing tool that allows your ads to display on a Search Engine Results Page (SERP). Google Advertising, Microsoft Advertising, and Facebook Ads are the primary PPC marketplaces. VeraPax Marketing helps you research, strategize, set goals, track, and manage your paid advertising campaigns.
Our in-house graphic design services create postcards, flyers, brochures, direct mail letters, social media, and more. We also design logos and help create your Brand Standards so your image and messaging is consistent across all channels. Our cost of graphic design is very reasonable, we do not charge Agency rates. Ask for your free graphic design quote today!